Divorce is a trying process, and it can be especially difficult if you have children. Whether your children were from the marriage or outside of it, young or old, it's important to ensure they get through the separation and divorce process as smoothly as possible.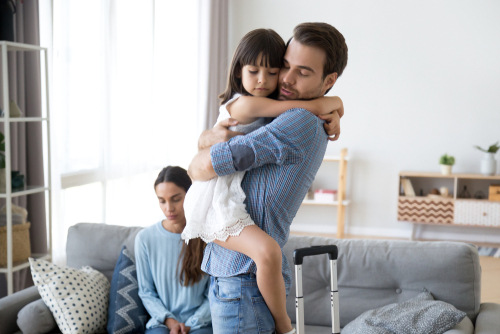 It's disheartening to think about, but your kids will be affected by your divorce in some way or another. Ensuring that everyone in your family makes it through the process as smoothly as possible is key to a healthy life for everyone after divorce.
Find a Suitable Way to Break the News
Sharing the fact that you're getting a divorce with your children can be heartbreaking to prepare for. Unfortunately, it's something that must be done, so it's vital that you find a healthy way to break the news to your family members. If it can be done in a civil manner, try to have both parents present when you have the discussion with your kids. Seeing the two of you together may give them less worry and help them understand the news better.
Take into account the age, temperament, and maturity of your children when preparing for and having the discussion and reassure them they are not to blame or at fault for the separation of their parents. Give them enough information so that they can be prepared for any and all upcoming changes to their lives. Encourage them to ask questions and be open to discussing anything they want or need with you as the process goes on.
Avoid Speaking Negatively About Your Ex-Spouse
Children pay a lot of attention to their parents, especially when they are young. They listen to the things you say and even if they are too young to understand every word, they still pick up on emotions and the way you act around them. Do your best to stay positive around them and avoid bad-mouthing your ex-partner to or around your children. Keep all visible and verbal conflict with your ex, as well as heated disagreements and legal talk, away from them whenever possible.
Focus on Your Childrens' Needs
Your children will go through a range of emotions throughout the divorce process, which may include shock, anger, sadness, frustration, worry, and confusion. Keep communication open and honest with your loved ones and reassure them that everything will be okay. Try to avoid disrupting their normal schedules and daily routines as much as possible, so that the transitions your family members go through do not have a negative toll on your children.
If you find that your children are having a lot of difficulty going through the divorce and you're not sure where else to turn, don't forget there are plenty of professionals who are available to help you and your family during these hard times. School counselors, therapists, psychiatrists, and other beneficial assistance is out there and it can be life-changing for both you and your children to use the many helpful resources there are today.
Looking for a Divorce Lawyer in Owings Mills?
Alan Billian is a professional divorce and family lawyer with over 27 years of dedicated experience with advocating for his clients to ensure the best outcome for their divorce. For legal assistance with your separation, divorce, or custody agreement, contact us today to set up your free 30-minute consultation.