Children and Divorce, Custody Disputes
Maryland courts will award child custody that best fits the interests of the child.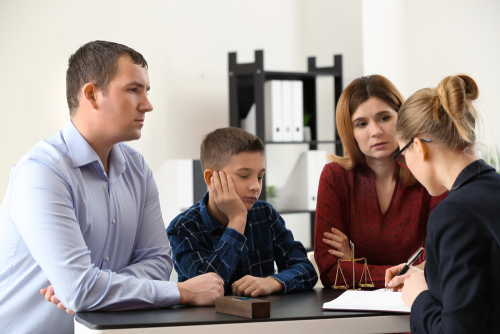 Divorces can be hard on either spouse, but they are especially hard on the family when children are involved. It's important that, throughout the whole process, the child's best interests are put first. That said, there are a few things which must be decided when dealing with children during a divorce.
Who Gets Custody of the Children?
In the state of Maryland, the court doesn't favor one parent over the other when determining who will be awarded custody of the children. Instead, the courts will keep the child's best interests in mind when determining child custody. The courts want the least amount of disruption in the child's life during and after the divorce process. The same holds true when dealing with a custody dispute when there was no marriage between the parties..
What are the Types of Child Custody?
When dealing with the custody of children, there are a few different types. Each type of child custody in Maryland helps to define who will handle which aspect of the child's life and to what capacity.
Physical Custody – involves where the child will live.
Legal Custody – the parent can make legal decisions on behalf of the child.
Sole or Primary Custody – when only one parent has both physical and legal custody.
Joint Legal and Shared Physical Custody – an agreement allowing both parents to share physical and legal custody.
Before entering into any form of child custody agreement, it's best to have a divorce lawyer in Owings Mills look over the agreement. While you may assume your spouse will be civil during the divorce, it is best to have a legal professional look over any documents to ensure you are not being taken advantage of.
Will Child Support be Awarded?
Typically, with a divorce case in Maryland, when child custody is awarded to a party, child support will be awarded as well. The amount of child support is usually calculated to ensure the child's standard of living remains unchanged from before the divorce. There are many circumstances which affect the amount of child support, so if you'd like more information, get in touch with your Maryland divorce lawyer today.
Seeking Legal Help
When dealing with a divorce, it's always a good idea to contact a divorce attorney in your area for legal advice. Regardless if your divorce is peaceful or not, a divorce lawyer in Maryland will be able to help you understand the divorce process and help you achieve the best possible outcome for you and your children.
Give Alan L. Billian, P.A. a call today at 410-889-5500 to discuss your situation and how we can assist you.