We live in a DIY culture where independence is prioritized over all things and people are encouraged to take their lives into their own hands. Though this may be a reasonable approach for things like baking a fancy cake or making your own lampshades, not all activities will benefit from a little internet research and a "can do" attitude. Divorce is one such activity. So, when it comes to getting a divorce without a lawyer, rather than asking whether or not you can, ask whether or not you should.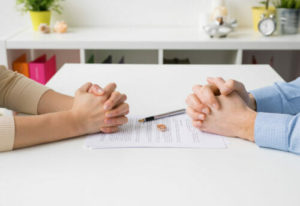 Divorce is a Complicated Process
The process of getting a divorce is rarely as simple as asking for one and getting it. There are necessary steps that must be followed to the letter to ensure that the divorce goes through and that it goes through correctly. Even if you're on good terms with your soon-to-be ex-spouse, you may not be in agreement about all of the details of your separation. In the event that you do not agree on everything, trying to battle it out in court will inevitably cost you in the long run, especially if they have a lawyer and you do not.
Divorce is a Lengthy Process
For most couples, you will need to show up in court multiple times to finalize the proceedings. If your divorce is uncontested, meaning that both spouses have come to an agreement on issues like division of assets and child custody, you might experience a process a bit quicker than in a contested divorce, but very little about a divorce of any variation is "quick." In few cases, the divorce can be finalized within a matter of weeks. The majority will take a few months to one year. On the highest end of the divorce process length spectrum is absolute divorce, which can allow the courts to keep you in waiting for even filing the divorce for 2-4 years.
Divorce Requires Understanding of Laws and Rights
It's not typical for your average Joe to have a full and up-to-date understanding of current state laws regarding the divorce process. Aside from those who study or practice law, citizens do not have a significant necessity for this knowledge. That is, unless they decide to get a divorce. A divorce will go much smoother and quicker when both parties are fully aware of their rights and the laws regarding this legal process. Still, some take it upon themselves to find this information on their own in lieu of hiring an attorney by searching the web, which puts them at risk of being misinformed by false or incomplete data.
What Your Maryland Divorce Lawyer Can Do For You
Your lawyer or divorce attorney is there for you in these proceedings from beginning to end. They are already well-versed in state laws and individual rights, and are adept at explaining this important information to their clients so that every part of the divorce process is fully understood. They advocate for clients while working to resolve each case in a timely manner and with as little conflict as possible.
Alan L. Billian, P.A. is a lawyer with over 28 years professional experience in the industry. Contact our office today to request your free consultation for divorce or other family law representation.