Couples who wish to separate may be able to get an uncontested divorce in Maryland, which simply means that they have reached a settlement agreement on all the issues that must be addressed in order to end the marriage. Filing for an uncontested divorce can be confusing, especially for those who are not familiar with the legal requirements and rules. Here's what you need to know about a no-contest divorce in Maryland.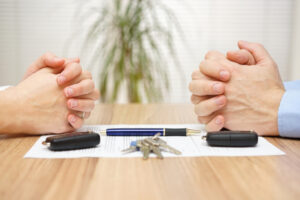 What is a No-Contest Divorce?
A no-contest divorce is when both parties work together and end up agreeing on how property and other assets are divided. There are no disagreements pertaining to child support, child custody and visitation, and alimony. Couples who file for a no-contest divorce work together to create a settlement agreement that will be filed with the divorce filing and presented during the divorce proceedings. A judge will review the documents and take them into consideration when deciding whether or not to grant the divorce request. 
Types of Divorce in Maryland 
There are two main types of divorce in Maryland: limited divorce and absolute divorce. Limited divorce is similar to a legal separation in other states. It is a temporary agreement that allows spouses to have the court address issues like temporary child custody or spousal support before they are eligible for absolute divorce. Absolute divorce is final. Once an absolute divorce has been granted, the marriage is completely terminated. Couples cannot go back and change their minds once the decision has been made by a judge. 
The No-Contest Divorce Process in Maryland
The process of getting a no-contest divorce in Maryland is relatively simple, but it requires knowing the steps to follow, the legal paperwork to completeyou must fill out, and where to file that paperwork, and how to present your case to a judge. Here are the three main steps to a no-contest divorce in Maryland.
Creating the Settlement Agreement 
The first step to a no-contest divorce is to sit down with your spouse and create a settlement agreement. The agreement must address things like: how you will divide marital property and debts you owe as a couple, alimony payments, child custody, and child support. 
Complete and Filing Divorce Forms 
After you have sat down with your spouse and created a comprehensive settlement agreement, you can initiate the process for absolute divorce by preparing, completing filling out and filing the necessary paperwork. In addition to filing the Complaint for Absolute Divorce, spouses will need to submit their settlement agreement, financial statements, child support worksheets, a Civil Domestic Information Report, and any other documents that will help support their request for a no-contest divorce. The non-filing spouse must also file a response to the Complaint.
A Mutual Consent Divorce Hearing
Once you and your spouse have submitted the necessary documents, the court will schedule a hearing for your no-contest divorce. The filingAt least one spouse must appear at the hearing, and they should have a copy of the marriage certificate and proof of residency. The judge will review the settlement agreement, make sure that the terms and conditions are fair, and usually approve the settlement agreement and incorporate it into the final divorce decree. 
Filing for a No-Contest Divorce?
A no-contest divorce may seems relatively straightforward, but having a knowledgeable lawyer by your side throughout the process will ensure that everything goes smoothly. Here at Billian Law, we help people throughout every stage of the divorce process. We'll help you get the results you want as quickly and effectively as possible. Contact us today to get started with a FREE 30-minute consultation.