If you're going through a divorce, it's likely that you and your ex-partner are not on the best terms with one another. There are cases where a divorce is a mutual agreement between two people who are amicable and have agreed in a civil manner that the separation is the right decision, but many times couples divorce because of a disagreement.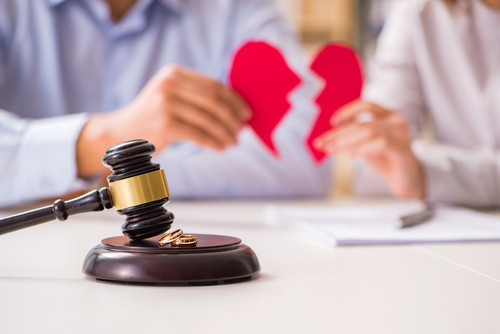 If you can relate to the latter, you should know that remaining civil throughout the divorce process can be highly beneficial to you and the outcome of your case. We know this is easier said than done, so we have put together some helpful advice on how to have a healthier separation from your ex-spouse.
Tip #1: Talk to Someone Outside of the Situation
Sharing your thoughts and feelings with someone you trust, whether it be a family member, close friend, or therapist, is helpful in ensuring you don't end up using your ex as an outlet for your frustrations. Keeping your emotions bottled up inside can eventually lead to trouble, so it's important to deal with them in a healthy way. However, when speaking with someone you trust, do not disclose the advice that your attorney is giving you and do not share your attorney-client communications.
Tip #2: Be as Respectful as Possible
It can be difficult to feel respect towards your ex-partner when going through a divorce, especially if their words or actions were the initial cause of the separation. However, treating your ex disrespectfully can come back to hurt you when you are going through a divorce and can lessen your chances of a favorable outcome. Some ways to practice good etiquette with your ex are:
Avoid bad-mouthing or criticizing them.
Do not be spiteful towards them.
Practice empathy and mindfulness.
Try not to hold a grudge.
Stay calm when confronted by your ex-partner.
Tip #3: Focus on Yourself
The divorce process can feel like a long and complicated rollercoaster of emotions. It can be very easy for couples to forget to make time for themselves. Practicing self-care is highly important to your mental and physical health in day-to-day life, meaning it's especially vital when you are going through a difficult time, such as divorce.
To best take care of yourself, avoid skipping meals, ensure you're getting enough sleep every night, make time for hobbies and enjoyable activities, spend time with family, practice meditation or regular exercise, and never be afraid to ask for help when you need it. Bringing your best self to divorce proceedings and interactions or confrontations with your ex-spouse can help you guarantee that the outcome of your divorce is favorable for you.
Tip #4: Hire a Reliable Divorce Attorney in Maryland
Alan Billian has been practicing divorce and family law for over 27 years and is here advocate for you and your needs throughout your divorce from beginning to end. Get the help you deserve in keeping the process civil and working towards the best outcome possible for you by contacting us for a free consultation today.