It doesn't matter which state you got married in. The divorce is filed and is subject to the laws of the state where you currently reside. As long as one of the spouses lives in Maryland, he or she can file for divorce in Maryland. There are specific residency requirements you might have to meet first, which we will discuss in this article.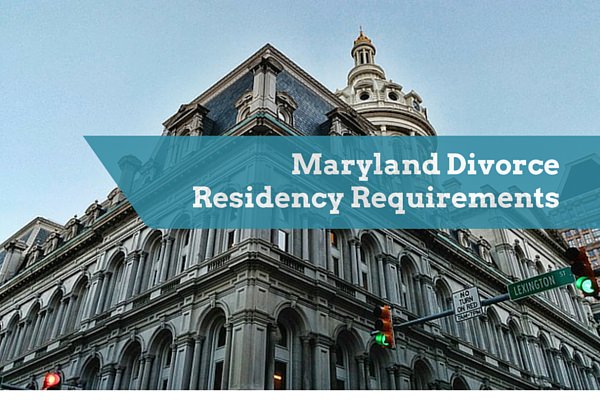 Do I need to prove my residency?
You may need to prove your residency if asked. In most cases, the judge will rely on your verbal testimonial and the information on your complaint for divorce. But occasionally you may be asked to produce evidence, such as your Maryland driver's license, voter registration card, state tax return or bank account statements. So make sure your Maryland residence is documented before you file for divorce. Cases have been dismissed for lack of proof of residency, because Maryland courts consider these cases out of their jurisdiction.
How soon after moving to Maryland can I file for divorce?
Assuming you've already obtained the documents that prove your residency, you can either file for divorce right away or you may have to wait a year. It depends on where your ground for divorce "happened." For example, if you are divorcing on the ground of adultery that happened in Maryland, you don't have to wait to file for divorce. However, if your spouse has left you before you moved to Maryland and you want to file based on desertion, or a 1 year separation, you need to have lived in Maryland for 1 year before you can file.
What if my spouse is not a Maryland resident?
Only the person filing for divorce in Maryland has to be a Maryland resident. If your spouse resides in a different state, they can file for divorce there. If each of you files in your state of residence, this is called "concurrent filing." Typically, the person who filed first or served the other person first will end up being the primary case. If you live in Maryland and your spouse lives somewhere else, it's worth consulting with your Maryland divorce attorney to check which state you should file in. Depending on your specific issues and grounds for divorce, laws may be more favorable to your situation in one state versus the other.
What if my spouse filed in Maryland and I live in a different state?
When there is poor communication between spouses (or outright hostility), it's possible for one spouse to file for divorce without consulting with the other. If this happens to you, the first thing you should do is find a good family law attorney in Maryland and get advice. Don't go to an attorney in Virginia, Pennsylvania or wherever you live. They won't be familiar with Maryland laws and won't be able to help you.
Can I move after filing for divorce?
Once your complaint for divorce is filed, you are free to move both within Maryland and to a different state. Moving is nothing new for divorcing couples and courts understand that. However, be mindful that you will have to attend the hearings in the state and county where you originally filed, so moving too far away may cause inconveniences.
What if my spouse and I have children? Does this impact where I can file?
Yes, there are jurisdictional issues pertaining to the residency of minor children. Contact our Maryland attorneys to find out how this may impact you.
Have more questions about meeting the Maryland residency requirement or out-of-state divorce? Contact us for a free consultation!